If you're heading on an Atlantis gay cruise, then you're probably scrambling for costume/outfit ideas so that you can keep up with all the other circuit queens!
Don't fret!

Here's an essentials costume shopping guide for you categorized by the party themes that you can definitely expect to see on your cruise.

But first of all, if you're not an Amazon Prime member yet, I suggest you get yourself at least the 30-day free trial so your items can get to you ASAP. Because if you need to return it (which returns are also free) you will have time to get another shipment in before it's too late! Start your prime membership by clicking below
Dog Tag T-Dance
The Dog Tag T-Dance is always the first T-Dance (daytime party) that you'll have on the cruise. It's the first chance to really get to know your fellow cruisers! You'll be given a military dog tag where you can put different colored stickers on it to show how "available" you are. Red means you're taken, green means you're fully available, and yellow means "ask first." And everyone is going to be dressed in their military best. So here are a few ideas for you to dress to impress!

Men's Sexy Sailor Costume with Suspenders and Boxer Briefs
Show off that body-ody! I'm pretty sure this costume is going to be attract a lot of seamen!!


Army Camo Cap
Or go super simple and just buy this Army Camp cap and pair it with your favorite white or green tank, some sunglasses, and a pair of your best booty shorts!

More Ideas:
Wild/Animal Theme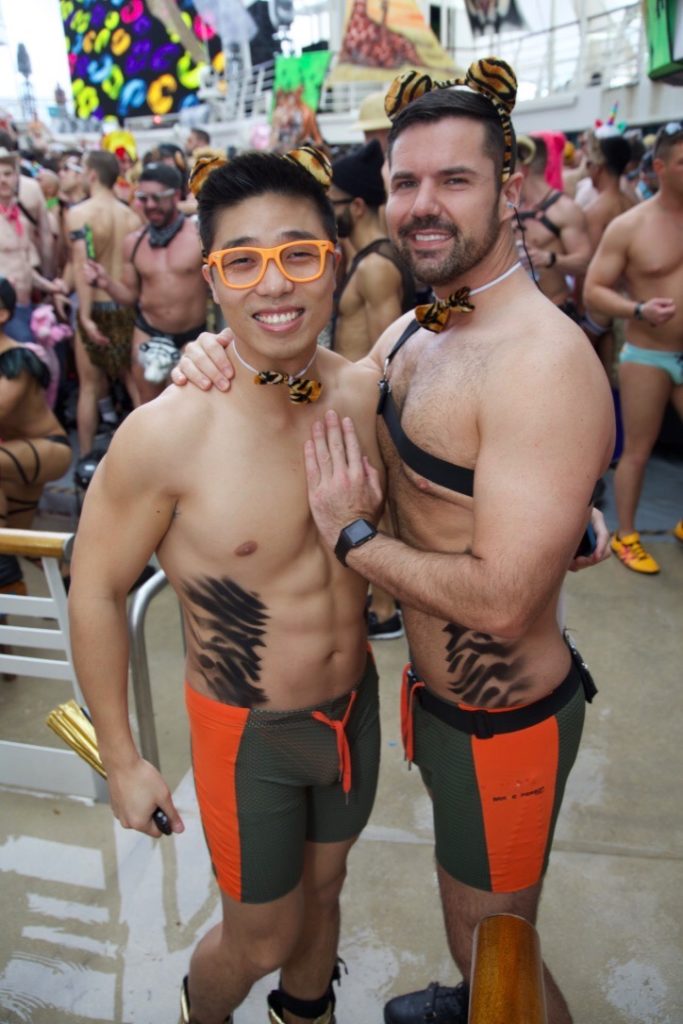 While it may not show up on all cruises, the Animal theme has popped up many times. With this broad theme you can really get creative because there are definitely tons of animals out there to draw inspiration from! For our last cruise, we were tigers and it was as simple as getting some tiger ears and tails. And then our friend Chris spray painted our body!

Tiger Costume with Headband, Tail, and Bowtie – https://amzn.to/32fusuN
Yes, it's a kid's costume but it works just as well!

Big Bad Wolf Costume – https://amzn.to/33wDRyC
Or go a little more elaborate with this full Big Bad Wolf costume to go hunt down your prey!

Reindeer G-String/Thong – https://amzn.to/2BcL0rE
For those of you not afraid to flaunt it all, then this Reindeer Thong is DEFINITELY what you need! If you're getting this, please take pictures and share with all of us 😉
More Ideas:
Disco T-Dance
Another staple of the Atlantis cruises is the Disco T-Dance, which is traditionally the last daytime party of the cruise. It's meant to be a silly and carefree party, full of amazing 70s disco vibes. So here are a few costume ideas to help you channel your inner Diana Ross!
Disco Afro Hair – https://amzn.to/2VINmYU
This costume set has it all: the awesome curly afro hair, the big shades, the porn mustache, and the gold chain. And if you get a whole group to wear the exact same thing – priceless group photo!

Disco Sequined Shirt – https://amzn.to/2BdyE2A
Show off your disco dance moves while wearing this loud and stylish sequined shirt!!
More Ideas:
Glow Party
Some cruises have had parties directly themed as a glow party, but even if your cruise doesn't, you can use any of the following glow accessories for ANY evening party to stand out! Plus it'll make it a lot easier for your friends to find you!
Pixel Pro LED Goggles
Check out these super cool goggled with LED lights! It lights up with over 350 modes and it's recharged by USB. And it's controlled by a remote control! You can purchase these at Emazing Lights and use coupon code ALMANAC for 10% off your orders!
Glow In the Dark Caps – https://amzn.to/2MGdLlP
It's super simple yet effective and catches your eye! And as I said before, you'll be able to find your friends real easily with this on!

PINFOX Shutter EL Wire Neon Rave Glasses – https://amzn.to/2LK5mPl
You're sure to be the life of the party with these EL Wire neon glasses on. These are battery operated so you may need to bring extra batteries with you if you want them to last several nights.
More Ideas:
White Party
And the iconic White Party is definitely on EVERY cruise. So here are some creative white party outfits for you to try.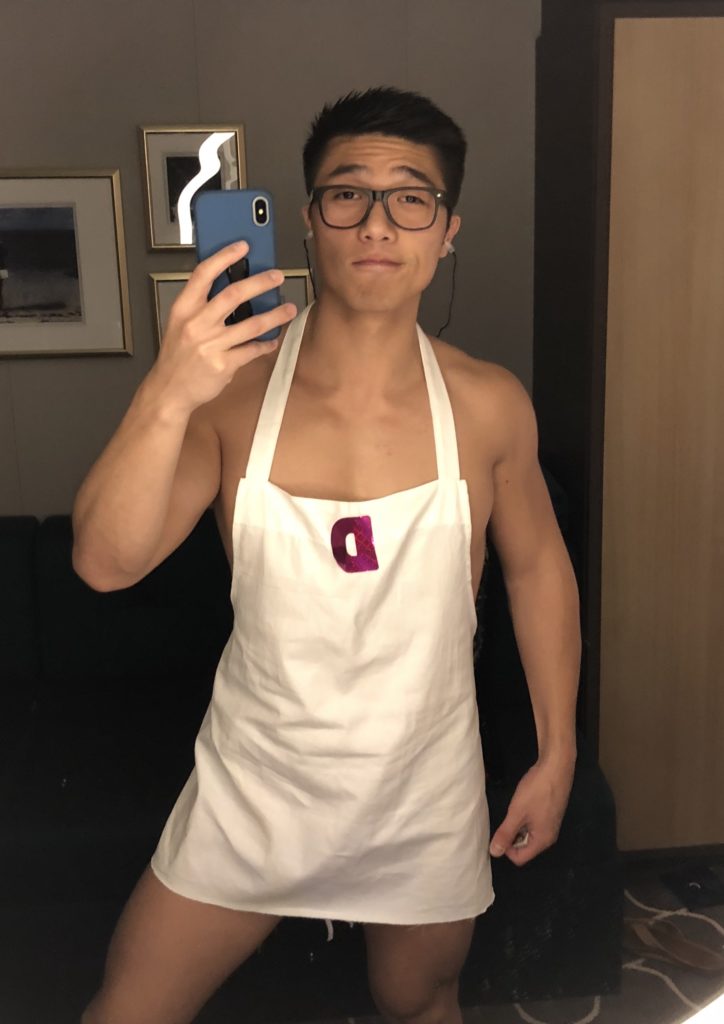 Sexy Chef! with a Chefs Apron – https://amzn.to/2MFsa1F
Grab a simple white chef's apron, cut it up to your desired length, and then personalize it! Simple and cheap!
Men's Toga Costume – https://amzn.to/35vnVOZ
Can't have a white party with some togas! And you can always drape it as modest or as slutty you'd like it to be!
Milk Man Costume – https://amzn.to/33v6And
Nothing says white like MILK. You can go around the dance floor delivering your creamy, white milk to all the hot boys!
More Ideas:
I hope that helps you with your costume shopping!!
Make sure to check out my FatBoyDoug YouTube Channel for videos on how else to prepare for your Atlantis Gay Cruises!