Getting ready for your next Atlantis Gay Cruise but not sure what to bring for this amazing adventure? Well look no further! I'm here to give you 6 pro-level items to pack for your next gay cruise in this Atlantis Gay Cruise packing guide!
So you're booked on an Atlantis gay cruise?! Congrats! It's literally the BEST 7-10 days you'll have in your entire life. Just the idea of being around all gay guys where you don't have to hide or pretend to be someone you're not. The experience is truly liberating.
Now whether you've been on the cruise before or this is the first time, I'm here to give you some advice on what to pack for this week in gay heaven. It's not your average packing list with sunscreen, swim shorts, and tank tops. I'm going to tell you things that cruise veterans like to bring with them to really enhance their time on the cruise.
Door Decorations
What the heck are door decorations?? Well, veteran cruisers bring fun decorations to put on their doors to introduce themselves to their neighbors and all the guys that will be roaming the halls. Many people put up pictures of themselves or anything that's going to help people remember who they are. You can put the pictures up with tiny little double sided stickers.
Another great thing to put on the door is a dry erase board or poster. This way people can leave messages for you as they walk by. Or you can use it to let your friends know where you are (since you won't have cell phone reception on the cruise)
Cruise Cards
What the heck are Cruise Cards?? Well, Cruise Cards are small business cards that have someone's picture and info on them, like where they're from and what cabin number they're in. These are a great idea because we don't have cell phones to communicate with each other. So once you've met someone, you give them your cruise card to stay in touch!
You can also use Cruise Cards as a way of introducing yourself. If you're like me and a bit shy, just go up to someone and give them your cruise card and see where that takes you. Most people who have been on a cruise once will know what a Cruise Card is. And if you happen to give a card to someone who has no idea what it is, then it's a great conversation starter.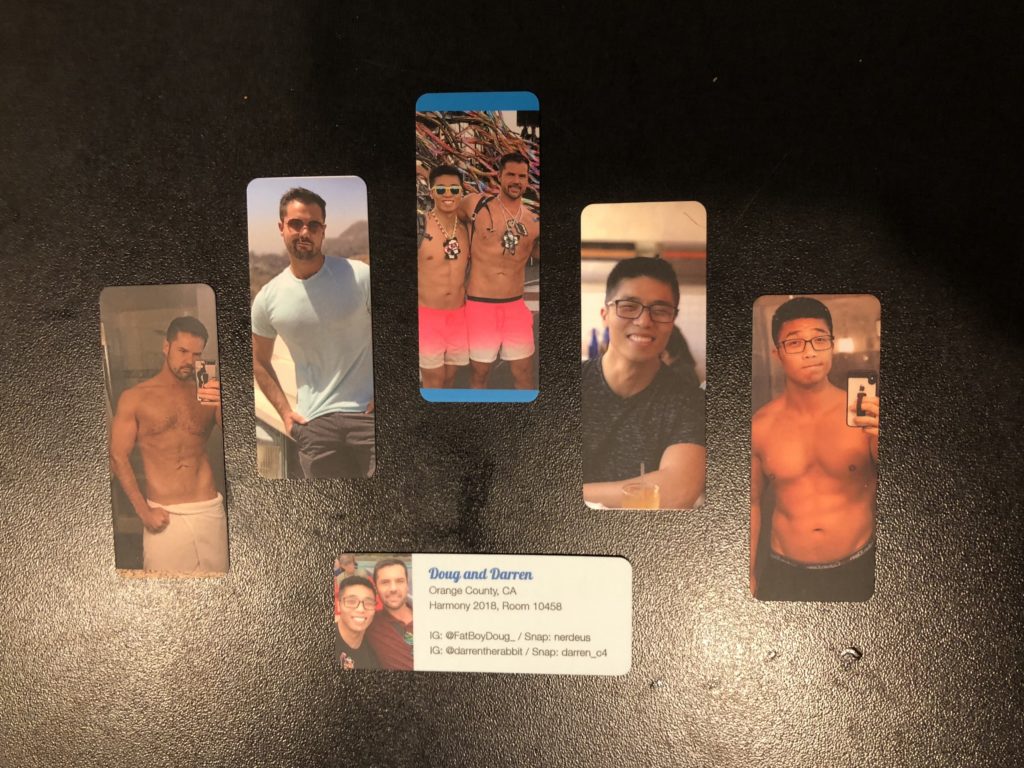 You can design your own Cruise Cards at Moo.com – they have a great selection of templates/designs that you can choose from. Or you can start from scratch on your own! But the quality is great and for a low price. And with my FatBoyDoug link, you're going to be able to get your first order for 25% off! So go to https://refer.moo.com/s/fatboydoug123 to start designing yours!
Fanny Pack w/ Water Bottle Holder
This is really a must have for ANY party that you go to. We wear one at every circuit party or rave because it just makes this so much more convenient.
First of all, it's a regular fanny pack that can hold many things like your chapstick and gum. It also has pockets large enough to hold your phone if you're keeping it with you.
But the best part is that it has a water bottle holder! Nothing's worse than holding on to a water bottle while you're trying to dance with someone. Now with this fanny pack, your hands are FREE!
For more awesome things to pack for your next Atlantis cruise, check out my video below! Also, make sure to subscribe to my YouTube Channel here.
And check out other gay rave and circuit advice blog posts by clicking here!