What a difference a year makes. The thing that I love about Folsom weekend is that it is ever changing. There are never two years that are alike. There are some circuit parties weekends that are like ordering at McDonalds – you know exactly what you are going to get when you order it and it comes to you exactly as you'd expect. Folsom is a completely different creature. It changes, it adapts and it grows. It's never the same creature because the venues change and the DJs bring their different character to it every year.
The new kid on the block this year was the new Saturday Main event Pervert. And it was a blockbuster.
Pervert at Mezzanine with Dan Slater, Isaac Escalante, Nina Flowers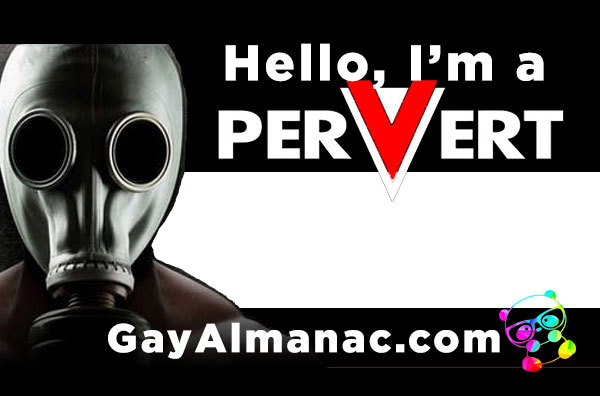 This year the much-lauded Magnitude was canceled due to lack of attendance the year before. The funds raised helped pay for the Folsom Street Fair and last year funds from the Fair had to be used to pay off the bills for Magnitude. Unfortunately, attendance had dwindled in the past few years due to the San Francisco laws that forbade live sex shows on stage and the dungeon. Without them it was difficult to draw the same level of mega attendance that they had in years past for the fundraiser. Unfortunately, the announcement came late in the year and so the venues were already locked in for this year's Saturday main event.
.
The event was sold out more than a month in advance and Mansingh announced that they would be releasing a limited number of tickets at the door so I knew that it would be crowded. Apparently, we weren't the only ones because we arrived at 10:30 and both lines were pretty long. The coat check line still wasn't too bad when we arrived, and the staff were very friendly all around. Mezzanine was supposed to the follow up to Club Universe over 15 years ago and although it has never quite lived up to the hype, it's a very nice club. It's also reputedly going to be shut down in the near future. It's a large rectangular box with the L shaped balcony above where you enter on the bottom left side. On the additional left side is also the set of bathrooms, which were plenty ample for the club. To the immediate right side was the coat check and the step and repeat photo opportunity where kids of all ages could test their new iPhone 11 dark camera capabilities.
Dan Slater was already delivering the beats when we entered. His high energy, vocally driven beats were already weaving their spell and the dance floor was already half full. The sound system as pure and clean and the energy level was building and building. By 11:15 the dance floor was completely full and all of the Pervert fans were out in full effect. The energy was infectious and by the time Isaac Escalante came up it was a full force tsunami of energy. Isaac played the best set that I've ever heard from him. His beats were vibrant, dark, yet uplifting, with just enough vocals to remind you that you were on this planet while his beats jettisoned you into outer space. It was amazing. And then Nina Flowers came on. She played her signature dark beats as she always does. To say it was fierce was an understatement. She really closed the house down. By having each DJ play only 2 hours it really cut all of the fat and left only the meat and bones. It was a tremendous set and it was a stellar event to hang the new mantle of Saturday night. The lights and the lasers were also first rate. The entire event was absolutely revelatory and I can't wait until they are at the Midway next year with a larger space and a larger crowd. My only hope is that they go until at least 5 am so that people can directly go to Aftershock without having to wait outside to get in at 4 am.
Aftershock with DJ Abel
This Aftershock was a great return to form in terms of lines being manageable again. The party is a fantastic party and the issue with the lines is simply the price of admission. There are just too many people for the space to accommodate arriving all at the same time. I know that a lot of my friends took my recommendation to arrive at 5 am and go to the club directly from the uber without waiting in line. That way you don't have to bring a jacket or if you want to bring a jacket, bring a cheap $20 sweat shirt that you don't really care if you lose. Hide it in the lobby area under the couches or in a couple of other areas and find it again when you leave. Boom! You are in and on the dance floor by 5:05 for a club that opens at 4 am.
The venue itself was packed but not as bad as previous years. The dance floor was hot, but you could move around and really dance this year without having to run out and cool down. The thing that I like about this club is that there are so many places that you can get some space and dance. The main dance floor has balconies or stages on all 4 sides to give you plenty of room to dance. The lobby area has seating on two sides. And the lines for the bar are never very long.
Abel was playing his heart out and the Resist sound is unique and all its own. It's probably the most soulful tech house that you will ever hear. And it's different than any other DJ that you'll hear out right now. Abel puts his heart into the set and you can always tell when he's feeling it. The set had ups and downs and all arounds. I had a great time.
Real Bad at 1015 Folsom with Ale Maes

I don't know what I could possibly say about Real Bad that I haven't said before. Superlatives just don't do it justice. It's put together by a committee of volunteers that give their time throughout the year at numerous events and have raised over 3 million dollars for the community. They give multi year grants to many nonprofits over the years. It's incredibly well run from beginning to end with careful attention to the details. The logistics are nonparalleled. They offer Listerine in the bathrooms. They have signs posted warming reminding people to know their limits, take care of their friends and to ask staff if they need help. It's the circle of friends that ensures that everyone is was invited to join the party from a friendly host so that people are extremely nice to each other. There are only 2 degrees separated from everybody else at the party. And it comes across in the smiles and warm reception that everyone seems to give to each other. Unlike other parties you can literally go up and talk to anyone and they will respond warmly.
We arrived at 9:45 and Ale Maes was still warming up. I greeted a lot of friends both new and old and gave several of them the full tour. Because there is an upstairs red room lounge, and upstairs dance floor/dark room, a main floor dance floor, huge main floor foyer, and a downstairs dance floor. There were numerous bathrooms on the main floors and the upstairs. If you don't know the layout it's very, very easy to get lost. I had one friend who literally spent the entire evening dancing in the main floor foyer and never realized that there were 4 other areas.

Ale Maes turned it up a notch at about 10:38 and then we were off to the races. His mix of rapid high energy beats and vocals were prefect for the night. His energy was infectious, and the light ring set up surrounding him created a halo around his mixing gymnastics and really set off the podium where he was mixing. There was so much joy and ahem, carousing all around and people were really having a great time. There were smiles abound and the main dance floor was full but not too hot. The blue and black flag came out to "Generate" by Eric Prydz song and I was glad that the highlight song of the night was not the typical a circuit diva but a crowned prince of the EDM scene. Then there was a confetti drop and everyone's hands were up in the air with plenty of hugs to go around during that magical moment. Later on, there were the popsicles handed out at the perfect time and an unexpected second confetti drop. Everything went off without a hitch, as always. Then Ale Maes went into his after hours set and brought everyone down for a soft landing around 4:15 pm with his vocal bliss.
There was a lot of consternation with the way that ticket sales were done this year. The committee did two things that were intended to make the process more egalitarian but were not received in the manner intended. The first thing that they decided to do was to increase the number of hosts so that more people across the country could be hosts. The only way they could do that was to decrease the number of tickets given to each existing host. I wasn't pleased because I ended up with one less ticket but I understood their intentions and I thought it was a worthy cause. If you look at the list of hosts they are spread out throughout the country instead of being just in San Francisco and Los Angeles.
The second thing that they did was to sell additional tickets online. Previous years they sold tickets a week in advance in San Francisco. They wanted a platform so that people from across the country could get access to tickets and not just those with friends in San Francisco. As a result, a lot more people were able to obtain tickets from around the world. The simple problem is that Folsom has gotten exponentially larger every year and the venue has not. Simple economics shows that the demand outstrips the supply. Pervert and Aftershock were also sold out. It's just that Real Bad is such a phenomenal event with so much heart and history that people really feel that they miss out if they don't attend the annual gathering of the family and there's simply not much that can be done to change that. The venue is quite large and the committee does not oversell it so it's a pleasant experience for everyone. 1015 is kind enough to offer it up for free for Sunday so that all of the proceeds go directly to charity. And the history of the venue's relationship allows 1015 to trust the board to manage the event internally. It would be almost impossible to find another venue like it.
Nocturnal at Halcyon with Paulo
Much like Aftershock hinging on Abel's set, Nocturnal hinges on completely on Paulo. Halcyon was decked out to the nines. Chains and hooks were literally hanging off the ceilings. Coat check was moved upstairs and extended out on the second floor so it was quick to drop everything off and dance. There was a great lighting and laser system. And the sound system was phenomenal where you can feel the base pure and clean pulse through you. Paulo was warming up when we arrived, and the stallion was unleashed by 6 am. Every year there's only a handful of times where I think that the DJ has reached a transcendent apex and takes the entire crowd on a journey that leaves them shivering, wet, and completely satisfied by the experience. This was truly one of those nights. I am reminded once again why Paulo is on a very short list of DJs that can really spiritually reach deep into my soul and show me the pure essence of humanity. This was the basic call of the beat that has enthralled people from the dawn of the time. We were in the womb of mother and we could see the entire evolution of the journey from beginning to end. People kept saying that they were going to leave and yet the music was just. So. Good. that it made it all but impossible. Finally at 8:15 I tore myself away, fully sated from every fiber of my being to the depths of my soul.
This was probably one of the best Folsom weekends in memory (and my memory is long my friends.) There wasn't a mediocre party among the bunch and I'm reminded again why this is without a doubt my favorite weekend of they year. Forget Halloween. Forget Christmas. Folsom is all I need.
Pei is a contributing writer for GayAlmanac.com. You can also check out his review of Alegria at New York World Pride 2019 on our site!
And make sure to join our Gay Rave and Circuit Almanac Facebook group to stay connected with other circuit queens!